Alma W. Thomas (1891-1978)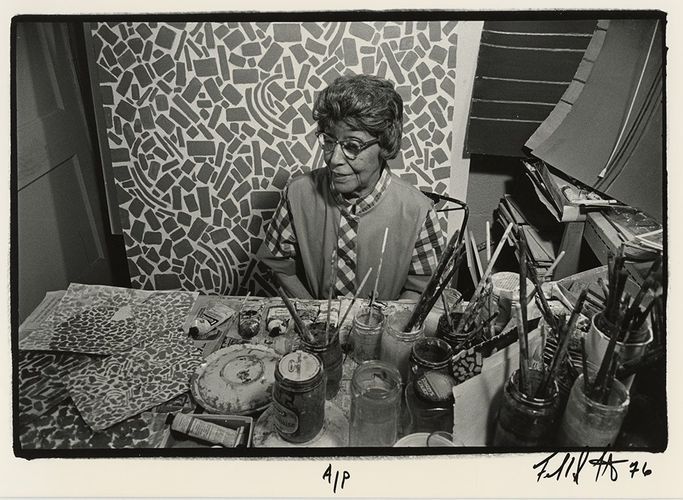 Born on September 22, 1891, in Columbus, Georgia, Alma W. Thomas was the eldest of four daughters. Her father worked in a church and her mother was a seamstress and homemaker. Thomas's family was well respected in Columbus, and she and her sisters grew up in comfortable surroundings. The family lived in a large Victorian house high on a hill overlooking the town where Thomas spent her childhood observing the beauty and color of nature. In 1907, when Thomas was fifteen years old, her father moved the family to Washington, D.C. She enrolled in Howard University, and in 1924 became the first graduate of its newly formed art department. Thomas's teacher and mentor, James V. Herring, granted her use of his private art library, from which she gained a thorough background in art history. A decade later, she earned a Master of Arts degree in education from Columbia University.
During the 1950s Thomas attended art classes at American University in Washington. She studied painting under Joe Summerford, Robert Gates, and Jacob Kainen, and developed an interest in color and abstract art. Throughout her teaching career, she painted and exhibited academic still lifes and realistic paintings in group shows of African-American artists. Although her paintings were competent, they were never singled out for individual recognition.
Suffering from the pain of arthritis at the time of her retirement, she considered giving up painting. When Howard University offered to mount a retrospective of her work in 1966, however, she wanted to produce something new. From the window of her house, she enjoyed watching the ever-changing patterns that light created on her trees and flower garden. So inspired, her new paintings passed through an expressionist period, followed by an abstract one, to finally a nonobjective phase. Many of Thomas's late-career paintings were watercolors in which bold splashes of color and large areas of white paper combine to create remarkably fresh effects, often accented with brushstrokes of India ink.
Although Thomas progressed to painting in acrylics on large canvases, she continued to produce many watercolors that were studies for her paintings. Thomas's personalized mature style consisted of broad, mosaic-like patches of vibrant color applied in concentric circles or vertical stripes. Color was the basis of her painting, undeniably reflecting her life-long study of color theory as well as the influence of luminous, elegant abstract works by Washington-based Color Field painters such as Morris Louis, Kenneth Noland, and Gene Davis.
Thomas was in her eighth decade of life when she produced her most important works. Earliest to win acclaim was her series of Earth paintings—pure color abstractions of concentric circles that often suggest target paintings and stripes. Done in the late 1960s, these works bear references to rows and borders of flowers inspired by Washington's famed azaleas and cherry blossoms. The titles of her paintings often reflect this influence. In these canvases, brilliant shades of green, pale and deep blue, violet, deep red, light red, orange, and yellow are offset by white areas of untouched raw canvas, suggesting jewel-like Byzantine mosaics.